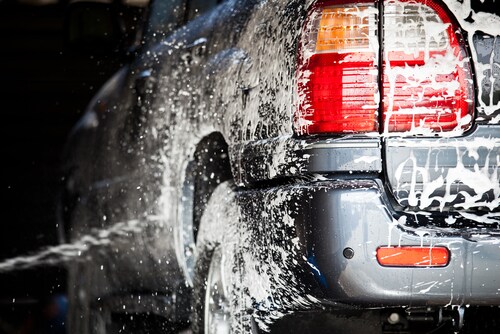 Washing Your Car in Cold Weather
Keeping a car clean in the winter can be a big challenge. Salt. Dirt. Snow. Sand. Slush. It seems like once the winter weather kicks in, we're destined to spend a few months under a layer of grime. Light colored cars show the dirt, while dark cars are coated with salt. Nothing looks clean.

Is it worth it to wash a car in the winter?

Washing your car, whether you like to do it yourself or run through the car wash, can seem like a waste of time and money. Isn't it pointless to invest in washing off the grime when you're going to drive right back on the sloppy roads? But it's actually well worth it to continue cleaning the exterior of your car, even when it seems futile. 
Preventing Rust
Washing away the salt can prevent rust from forming. The longer rust sits on your car, the greater chance you have of the oxidative powers of road salt causing rust. If you go through a car wash, opt for one with an underbody wash. Under your car is a magnet for salt and sludge buildup, and, besides the aesthetics of having a nice looking car, that is definitely NOT where you want rust to form. 
Don't forget about your tires
Pay attention to your wheels and tires. Clean them along with the car, check to make sure the pressure is right, and it may even be worth it to spring for the wheel glaze. This can help prevent cracking rubber on your tires. Sand can build up around the brakes, causing accelerated wear to your pads and rotors. 
Once your car is clean, waxing is actually a good idea. The wax will act as a barrier to the salt and dirt and protect your exterior between washes. 
What to avoid with cold weather washing
There are a few "don't"s that you should be cautious of in the winter when it comes to car washing. The first is to never pour hot water on a freezing vehicle. The windshield and body can both crack - or even shatter - under those extreme temperature chances.  The second is not to drive your car while it is still wet from washing. The handles can freeze and damage the vehicle. Third, be cautious of automated washes. Grit and rust from the car before can get caught in the brushes and damage YOUR car - not the result you're looking for (touchfree is often worth the money). And finally, if you are washing your car in your driveway, make sure to throw down some salt or sand (counter intuitive as it sounds) to make sure your driveway doesn't freeze and become a hazard itself! 
Overall, it's well worth a few bucks a weeks to protect your investment over the winter months.