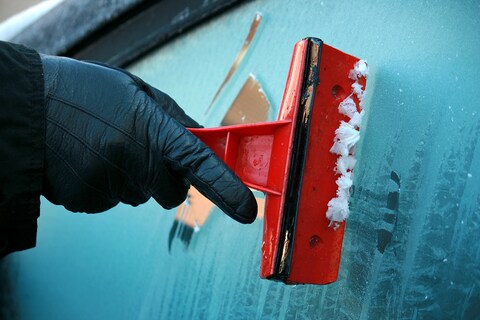 Gifts for Anyone Who Spends a Lot of Time Driving
Whether you're a commuter, a mom on carpool duty, someone who loves a good road trip, or just someone who enjoys keeping their drive time as pleasant as possible, there are some great products out there that should find their way onto your gift list!
Gloved Ice Scraper: If you park outside in the winter, this product is brilliant. My parents bought me one when I was living in my first apartment, parking outside, and needed to be on the road by 6:15. I hate the cold, so waking up at the crack of dawn to stand outside and freeze my hands was a special kind of torture. This scraper is attached to a huge glove, so you grip it from inside a warm, insulated mitten, keeping your hand far, far away from the frost and ice.
Heated Ice Scraper: If you want the next level, there are scrapers that plug into the car charger, warming them and making the scraping job much faster!
Emergency Tool: This multitool can break a window or cut a seatbelt in an emergency, as well as help with tire repair or simple bolts. It's something you hope you never have to use, but something that gives you a little peace of mind when it's in your glove box.
Breakdown Kit: Perfect for a new driver, a college student far from home, or really, anyone who finds themselves on the road a lot and wants to be prepared. Kits vary from small and minimalist, to so thorough that you'll never have to worry about being caught on the side of a road for long. A good kit includes at least a tire gauge, a battery powered light, and jumper cables. Work gloves, a blanket, flat repair and a poncho are often included. Having everything zipped neatly in its own pouch that stays in the trunk is a necessity!
Car charger: There are plenty out there! My favorite kind is a simple car to USB charger that any USB cable can be plugged into. I prefer one with two USB plugs, since I always seem to have multiple devices that need charging!
Portable DVD player: Drive with backseat passengers? Short or long trips, this has been a lifesaver for us. We have screens that attach to each headrest so both kids get an optimal view. Now that my older one can read menu screens, getting one with a remote was a great choice - they don't need to wait until we're parked to control the movie!
Basics or indulgences, this is a list that many who spend time in their cars would love to receive!